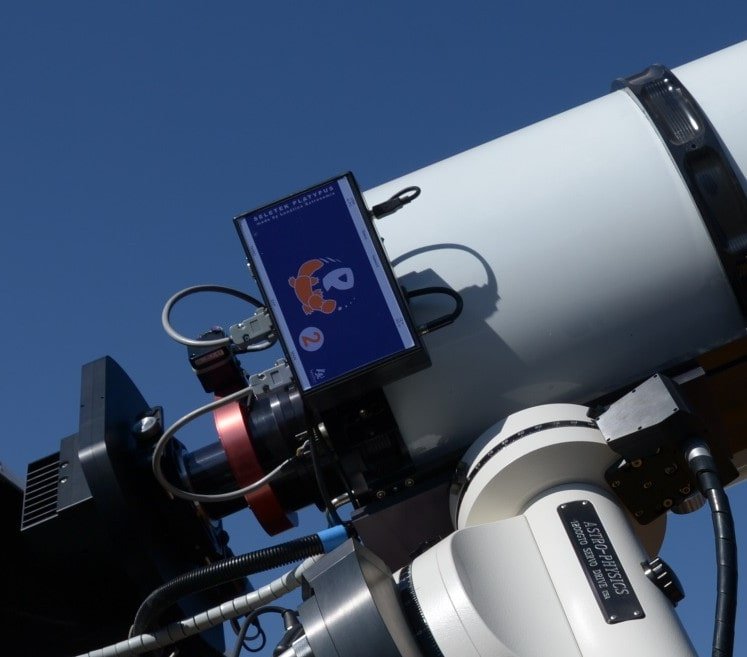 Platypus 2 The Seletek controller designed by Lunático Astronomía … for observatory remote control.
All the features of the Seletek Armadillo plus network connection (ethernet) and a third peripheral port. It is the best controller to automate your observatory.
The Platypus has all the features of the Armadillo, managing up to 3 devices: focusers, camera rotators, filter wheels… up to 3 at the same time.
The Platypus can be accessed by local network and USB, with concurrent connections: one computer via network and other via local USB, a few of them via network…
Platypus is a whole range of possibilities …

It supports simultaneous connections: it can be monitored remotely while the observatory's computer performs its focus tasks, etc … One computer can be connected by network and another by USB, or several by network …
controls all types of motors (VSI, Feather Touch, Robofocus, Moonlite, Lakeside …)
It allows controlling

three devices simultaneously

: one focuser and two filter-wheels, focuser and two filter-wheels, rotator and two wheels, telescope fans …

Autofocus motors: the Lunático ones or another, such as Robofocus, Moonlite or FeatherTouch ones, and almost any other that is "stepper"
Camera rotator
Filter-wheel (with stepper motors, not USB wheels)
Other devicees

With our free program "PinByPin": independent control of any controller pin, manual or automated (depending on temperature delta), useful not only for fan control but also for dew heater bands, as ones of the ZeroDew system.
Rotators control, like the VSI's "Zerotator", or the Astrodon "TAKometer"
You can also decide which peripherals to control thanks to "Seletek à la carte" (we make custom adapters for you, contact us at info@lunatico.es)
And you can send us your suggestions for new applications,  contact us at info@lunatico.es.

---

We can configure the internet address of the Platypus to suit your network, just let us know at the moment of placing the order.

Please note, if you're going to install more than one controller in the same observatory (same network), don't forget to let us know so we can change the network name of the controller prior to shipment.
Why is an external controller like the Armadillo, Platypus, Tarsier or Limpet better than an "all in one" (focuser with embedded motor and cables)?
---
Technical specifications:
CPU: Atmel AT91SAM7X256
Inputs: 6 analog-digital inputs + 5 digital inputs
Outputs: 12 power digital outputs (up to 1A/port), 4 in each port
10 bit (0-1024) ADC
PC connection through USB and Ethernet (internet)
Size: 185 * 124 * 60 mm (including DB9 connectors)
Power supply:

12 to 24 V dc (depending on the motor used), typically 12 V dc
Standard 5.2 jack power connector
(*) If you want the power supply cable for car lighter plug, please click here.
To make your Platypus a focuser kit, you can also purchase the following items in addition to the controller:
(1) Select your focuser model focuser according to the images shown here. In case of doubt, please contact us.
---
Documentation:
---